Main
»
2014
»
August
»
11
» Crysis 3
---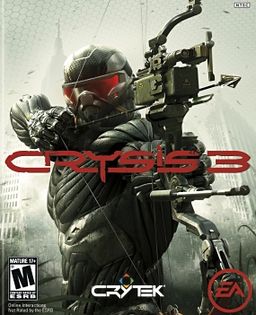 | | |
| --- | --- |
| Download torrent: | Crysis 3 |
| Info hash: | 99DFB4026E08D0F6A66703EB05FF64B08267CFEC |
| Category: | Games |
| Trackers: | |
| Seeds: | 283 |
| Leechers: | 324 |
| Health: | |
| Torrent language: | English |
| Total Size: | 11.1 GB |
| Number of files: | 17 |
| Torrent status: | Added by trusted uploader somesh |
| Uploader: | somesh |
| Torrent added: | 2013-07-09 06:15:51 |
Year : 2013
Genre : Action / Shooter
Developer : Crytek
Publisher : Electronic Arts
Publication Type : RIP
Language : ENG|RUS
Sound language : ENG|RUS
Tablet : enclosing (RELOADED * Crackfix v2 *)

System requirements:
Operating system : Windows Vista (SP2), Windows 7 (SP1) or Windows 8
Processor : 2.4 GHz Intel Core 2 Duo or 2.7 GHz AMD Athlon 64X2
RAM : 2 GB (3 GB for Windows Vista)
Graphics card : DirectX 11, 1 GB of memory (NVidia GTS 450, AMD Radeon HD5770 or better)
Sound Card : Sound device compatible with DirectX ® 9.0
Free space on hard disk : 9.5 GB

Description :
Crysis 3 continues the famous series of shooters from Crytek.
The game is set in 2047, and you have to play the role of prophet.
He returned to New York, where he learns that the city is under a
dome Nanodome, which was established corporation CELL Residents
report that Nanodome necessary for their protection and cleaning
of the last tsefov metropolis, but, in fact, it is part of the
construction covert operation to capture technologies for world
domination. Wearing improved Nanosuit and armed with deadly bow
and destructive alien technology, Prophet will prevent the
insidious plans CELL and destroy the remaining aliens.

Category:
Games
|
Views:
1209
|
|